Dalian Zhongjia Food Co. LTD
Strictly control product safety, improve product quality, to provide customers with good meat products.
Dalian Zhongjia Food Co., Ltd. was established in August 2000 and is located in Zhangtun Village, Taiyang Street Office, Wafangdian City, Liaoning Province. It is 800 meters away from Wafangdian Station on the Shenhai Expressway. The company covers an area of 60000 square meters, with a building area of 20000 square meters. Currently, there are more than 860 employees, including more than 60 professional and technical personnel of various types. The total value of the company's assets is 216 million yuan, including fixed assets of 100 million yuan. Since joining Wellhope in February 2015, Zhongjia Food has developed rapidly in terms of industrial layout, production scale, product safety, quality control management, equipment upgrading, product marketing, halal certification, environmental protection, and other aspects. After industrial integration, Zhongjia Food has a complete industrial chain, operating from chicken breeding, incubation, feed, stocking to slaughter, processing, and sales. Through layer by layer monitoring and strict control, the entire product process is controllable, effectively ensuring the quality and safety of the factory products.
Total assets of the company(¥)
System Certification
The company passed ISO9001 quality system certification and HACCP food safety system certification in 2002, and upgraded to ISO22000:2005 food safety management system in 2013. The system has achieved full coverage of the production process, and focused on monitoring the three critical control points of incoming inspection, pre-cooling disinfection and metal detection of hairy chickens. In the production process, food safety system operation, food safety has been effectively guaranteed.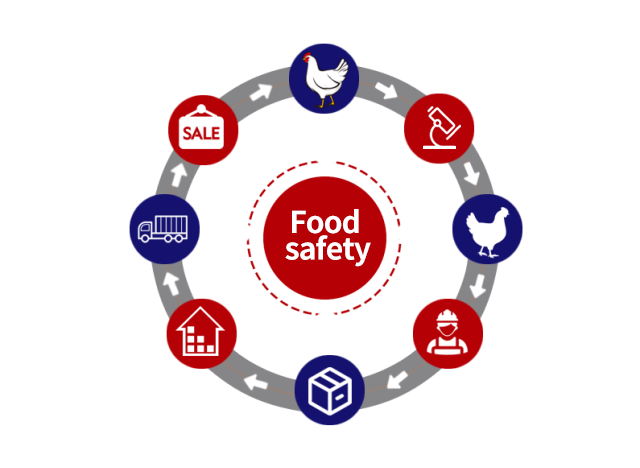 01.Requirements
Zhongjia Food is committed to providing high-quality, safe, healthy and nutritious products, creating a healthy food safety environment and improving people's quality of life.
02.Requirements
To ensure the safety of people's tongue tip, we promise that key equipment and technology are in line with the international advanced level.
03.Requirements
We are committed to respecting animal welfare and slaughter standards, and we are committed to ensuring our quality and safety standards.
04.Requirements
In order to appreciate the environment we live on, Zhongjia will continue to promote the comprehensive utilization of resources, develop circular economy, promote energy conservation and emission reduction, and protect the ecological environment. Promote sustainable development.